Anatomy №1
2018 Napa Valley
Cabernet Sauvignon
Variety: 100% Cabernet Sauvignon
Barrel aging: 20 months
Production: 2,993cases
Optimal Aging: 2021-2030
Alcohol level: 14.2%
pH: 3.77
TA: 5.89

Anatomy №3
2020 Napa Valley
Pinot Noir
Variety: 100% Pinot noir
Barrel aging: 9 months
Production: 950 cases
Optimal Aging: 2021-2025
Alcohol level: 13.8%
pH: 3.67
TA: 5.49
Winemaking style:
First and foremost a wine has to be balanced.
I often affectionately refer to Anatomy as my democratic wine, not based on the capital "D" political party but the small "d" relating to democracy and its principles. It is ready to drink now wine, that is varietally correct, and more importantly – affordable. "Currently I only make a Napa Cab under the Anatomy label but next year I will introduce more affordable varietals."
I wanted to make a more affordable Napa Cabernet Sauvignon so that more people could taste the good wines we make. I initially wanted to call it Antidote but the TTB "had a very strong negative reaction to it and told me over three pages why I couldn't do it." So I called it Anatomy because "we sometimes use anatomical descriptors like legs, backbone, etc." to describe wines.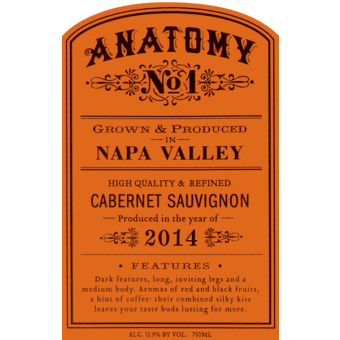 Anatomy
Anatomy No 1 is crafted for earlier consumption but it still has enough structure to age a few years. It is meant to be fun, joyful and delicious. Anatomy No1 took birth in 2006. Having trained in Bordeaux, I learned to love blending and appreciate the added complexity one can obtain.